4th annual pro harp jam in memphis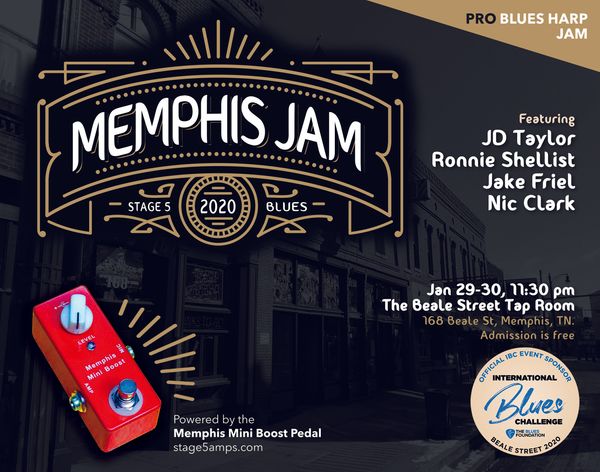 MEMPHIS JAM 2020 WAS A BIG HIT!  (It always is)
Many thanks to everyone who came to party with us.  We'll do it all again in January 2022.
Check out the videos below from Memphis Jam 2020.
---
Join us in Memphis for our 4th Annual Stage 5 Amps Blues Harp Pro Jam during the International Blues Challenge.  This is THE jam for harp players, featuring JD Taylor, Ronnie Shellist, Jake Friel, Nic Clark and other pro players.  The backing band consists of some of the best session players in Memphis.
The jam starts after IBC ends on Wednesday and Thursday nights, around 11:30 pm.  This is the real deal, a late night head-cutting session in a juke joint in Memphis.  It will be the highlight of your IBC experience.
We'll have the Stage 5 Amps and our superb new MM Boost Pedal on stage.  We'll have our renowned Blues Harmonica Delay Pedal and Little Fatty anti-feedback/tone pedal as well.  We plan to have some swag available too.
This is is not an open jam, it's a party.  Our featured pro players will get the most stage time.  There won't be a list.  If you are a Stage 5 Amps customer and you'd like to get up and play talk to me (Rick Davis), but not when I'm shooting video. 
Bruce Collins, the tech guru behind the Stage 5 Amps and Mission Amps, will be in the house.  If you like to talk amps this will be nerd central.
I'm looking forward to seeing ALL y'all at the jams, old friends and new. It will be the best late night blues on Beale.
Any questions, email me at BluesHarpAmps@gmail.com